IN THE UNITED STATES DISTRICT COURT
FOR THE DISTRICT OF PUERTO RICO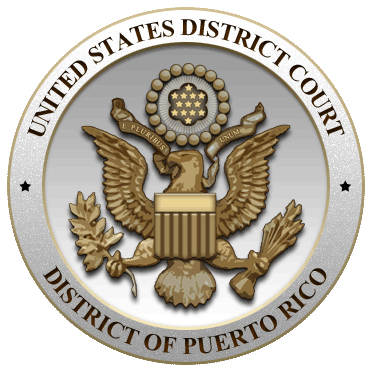 NOTICE FROM THE CLERK NO. 23-15
Continuing Legal Education Program on December 6 and 7, 2023
The United States District Court for the District of Puerto Rico ("District Court") is sponsoring a Continuing Legal Education ("CLE") program, to be held on Wednesday, December 6 and Thursday, December 7, 2023 at the Sheraton Convention Center Hotel in San Juan, Puerto Rico. This CLE will be a two-day, ten-hour program, to be offered free of charge to members of the Bar in good standing. Every effort will be made to obtain accreditation from the Puerto Rico Supreme Court's Continuing Legal Education Program.
The CLE program will consist of the following lectures: 1) Intellectual Property: Music and Entertainment Industry, Artificial Intelligence; 2) Ethics and the Practice of Law: Impact of Social Media, High-Profile Cases and Artificial Intelligence; 3) Social Media and the Law: Obtaining Information and Admitting It into Evidence, and 4) The U.S. Supreme Court Term Review.
The Program's featured speakers are:
1.Shyam Balganesh, Professor at Columbia Law School: Professor Balganesh writes and teaches in the areas of copyright law, intellectual property, and legal theory. He has written extensively on understanding how intellectual property and innovation policy can benefit from the use of ideas, concepts, and structures from different areas of the common law, especially private law. Balganesh's work has appeared in leading law journals, including the Columbia Law Review, Harvard Law Review, Stanford Law Review, University of Pennsylvania Law Review, and Yale Law Journal. He is also a co-author of sections of the leading copyright law treatise Nimmer on Copyright.
2.Barry P. McDonald, Professor of Law at Pepperdine University School of Law. Mr. McDonald is a recognized expert on Constitutional Law, the U.S. Supreme Court, and First Amendment Law. He has published several articles and essays on the law governing freedom of expression and religion in such prominent journals as the Emory Law Journal, Illinois Law Review, Northwestern University Law Review, Notre Dame Law Review, Ohio State Law Journal and Washington & Lee Law Review. His current projects include a book on the U.S. Supreme Court tentatively entitled Divided We Stand: How the Supreme Court Made Matters Worse. Mr. McDonald is frequently interviewed or writes in such major media outlets as The New York Times, The Washington Post, The Los Angeles Times, The Boston Globe, The CBS Evening News, BBC World News, BBC World Radio, CNN, Fox News, and National Public Radio.
3.Ronald J. Hedges, Principal of Ronald J. Hedges LLC. Counsel Hedges served as a United States Magistrate Judge in the District of New Jersey for over 20 years. He speaks and writes on a variety of topics, many of which are related to electronic information, including procedural and substantive criminal law, information governance, litigation management, and integration of new technologies such as artificial intelligence into existing information governance policies and procedures. Among other things, Counsel Hedges is the chair of the Court Technology Committee of the Judicial Division of the ABA and the co-chair of the NYSBA Committee on Technology and the Legal Profession. He is the lead author of a guide for federal judges on electronically stored information. Ron is also the co-senior editor of The Sedona Conference Cooperation Proclamation, Resources for the Judiciary, Third Edition (June 2020).
4.Laura Lee Miller, Associate with Harman Claytor Corrigan Wellman, a Civil Litigation Firm. Prior to joining Harman Claytor, Laura Lee practiced in a law firm at Washington, D.C. for several years representing insurers in coverage issues and disputes arising under various types of general liability and professional liability insurance policies. She is the current Vice Chair of the Medical Malpractice Section of the Virginia Association of Defense Attorneys. She has been previously named to Virginia Business Legal Elite. This year, she was named as a Virginia Super Lawyer Rising Star in civil litigation defense and will join the partnership of her firm in January.
The CLE Program runs from 8:30 a.m. until 3:30 p.m. on December 6 and 7, 2023. For your convenience, a detailed agenda, speaker information, and lecture materials will be posted in the CLE Program page of the District Court website. Requests for reservation will only be received through the District Court's CLE Registration Application.
Prior to submitting the CLE's Registration Application, be advised that:
•You should click on the CLE Registration Application link embedded in your e-mail invitation.
•Each attorney must make his/her own reservation.
•Attorneys must be in good standing to register (contact the Clerk's Office Cashier at 787-772-3061 to verify status).
•To request CLE accreditation from the Puerto Rico Supreme Court CLE Program, participants will be required to provide their registered "RUA" number as part of the application.
•Only attorneys with confirmed reservation may attend the CLE Program.
•Confirmed attorneys must commit to attend the two-day CLE Program.
•The deadline for reservations is Thursday, November 9, 2023.
•Attorneys with a confirmed reservation who fail to attend must explain their absence inwriting.
•Telephone calls for registration to the CLE program will not be accepted.
After the reservation period has closed, the Office of the Clerk will send a confirmation notice to registered attorneys to the e-mail address listed in the CM/ECF System. Attorneys with confirmed reservation must notify any cancellations on or before December 1, 2023, by sending an email to:
prd-cle-registration@prd.uscourts.gov
.
For updated information on the December 6 and 7, 2023 CLE Program, bar members are encouraged to regularly visit the USDC's website at (
www.prd.uscourts.gov
) and official Twitter account (
@USCourtsPRD
).
In San Juan, Puerto Rico, this 30th day of October, 2023.
ADA I. GARCIA-RIVERA, ESQ.,
CPA. CLERK OF COURT
To access a PDF version of this document, please click on the following URL address: Notice from the Clerk 23-15: CLE Program on December 6 and 7, 2023